Specialist Buildings (Various Projects)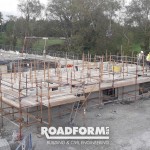 Project Details
Contract:
Specialist Buildings (Various Projects)
Client:
Various Clients
Year:
2016 - Present
Contract Details:


Our civil works contracts at a number of projects completed in recent years include the construction of specialist buildings related to the civil works. These comprise of ESB Substations, Administration Buildings, Control Buildings, Sludge Buildings at the following locations:

Bandon WWTP – ESB Substation, refurbishment of existing Control Building & demolition of decommissioned Sludge Building and construction of new Sludge Building

Millstreet – ESB Substation & Administration Building

Coachford WWTP – Administration Building

Dripsey WWTP – Administration Building

Ballymakeera WWTP – Administration Building

Innishannon WWTP – Administration Building

Uponor Project – Demolition and decommissioning of existing ESB Substation and construction of new ESB Substation and Switchroom.

Centre of Excellence Mallow – Main building up to floor level including 4200m2 of industrial flooring to FM2 standard for the project and ESB Substation construction

Roadform Ltd were responsible for the turnkey construction of these buildings to the client's specification, utilising a combination of direct in-house labour resources supplemented with specialist trade & service providers.